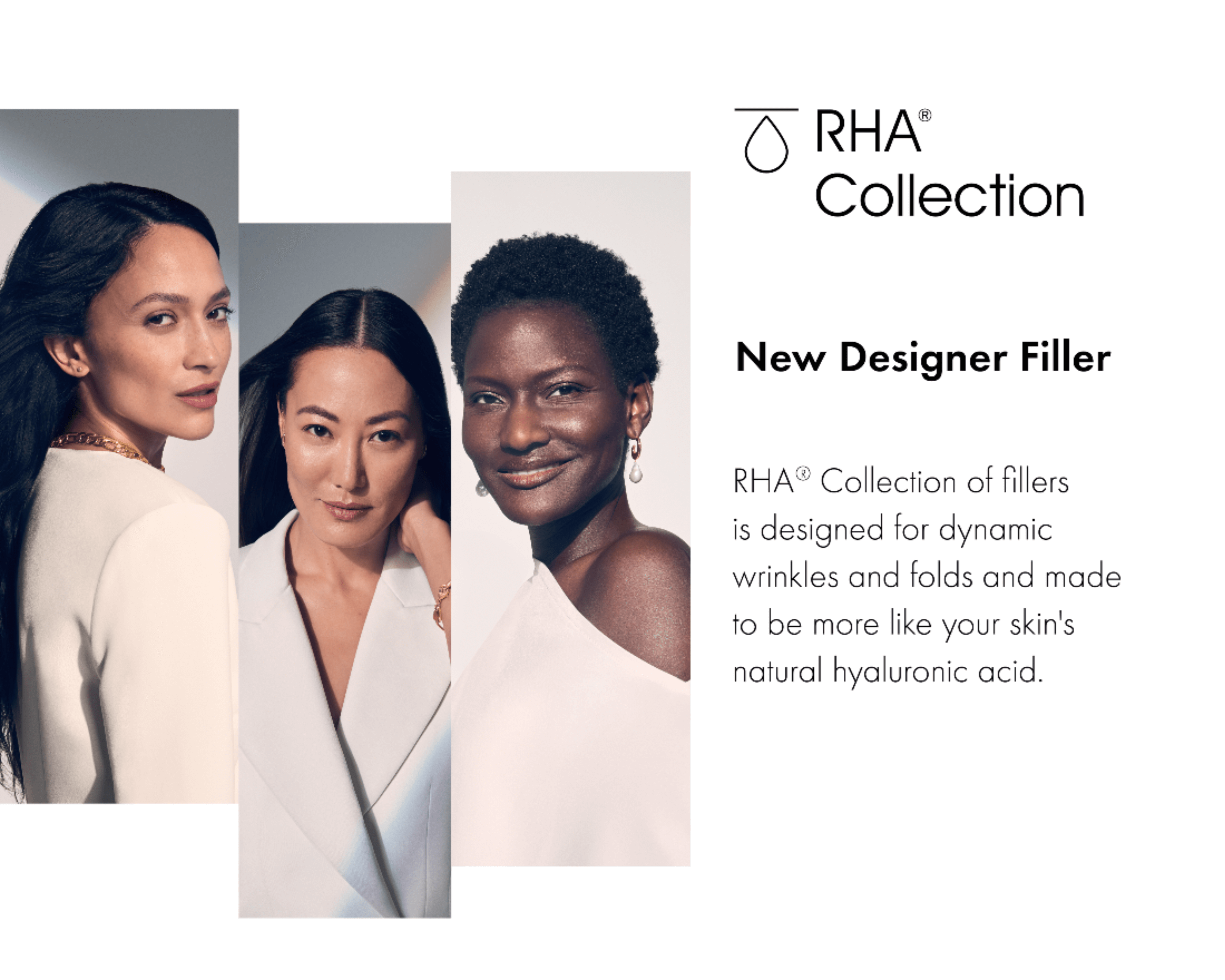 RHA - Resilient Hyaluronic Acid - is the latest technology in dermal fillers. The RHA collection the first and only designer filler FDA approved for dynamic wrinkles and folds. Dynamic wrinkles and folds appear in areas of the face which move repetitively. RHA is designed to be resilient enough to to adapt to your facial movement, which may provide a more natural look at rest and in motion.
Your skin contains Hyaluronic Acid (HA) which provides moisture, volume and structure. The RHA Collection is intentionally designed to be more like the natural HA in your skin. RHA uses a gentle manufacturing process with few chemical modifications, allowing it to mimic the natural HA found in your skin.
The RHA collection developed by TEOXANE Laboratories in Geneva, Switzerland, represents the latest advancement in filler technology. It was expertly developed to be a filler that has a long duration (15 months), but also moves seamlessly with the dynamic areas of the face.
Adean Kingston MD was hand selected as one of the first and only practices in the Dallas area to offer these fillers. The RHA collection of fillers includes three varying hyaluronic acid formulas in order to provide your best possible outcome. At Adean Kingston, M.D., PLLC in Dallas, TX, our skilled team utilizes the various RHA products in order to provide individualized procedure options that fit the unique needs and goals of each patient. To schedule a consultation with Dr. Adean Kingston and her experienced aesthetic team and learn more about your dermal filler options, contact our state-of-the-art facility today!
Reviews
"Dr. Kingston and staff are amazing, they offer great customer service! I come here for all my skin care needs and I always happy with my results."
- M.D. /
Google /
Apr 15, 2021
"Dr Kingston is very professional and kind! She is the best Dermatologist I have ever been too. She has even corrected previous doctors mistakes. I always leave relaxed because I know I was in good hands. The entire staff is wonderful ! The office is impeccable and no waiting time ever!"
- A.H. /
Google /
Mar 30, 2021
"Highly professional and friendly staff in a clean, modern, and safe environment."
- C.D. /
ZocDoc /
Mar 10, 2021
"excellent she is real deal"
- R.R. /
ZocDoc /
Mar 10, 2021
"Fast and friendly."
- I.J. /
ZocDoc /
Mar 09, 2021
Previous
Next
Ideal Candidates for TEOXANE
Ideal candidates for a dermal filler treatment with RHA may be desiring a number of results, including:
Diminished facial wrinkles
A reduction in the appearance of fine lines
Added volume to areas of the face, including the cheeks and lips
A younger-looking appearance without the need for surgery
Little downtime following treatment
During your thorough consultation at our Dallas, TX facility, Dr. Kingston and her team will be able to thoroughly evaluate your desired outcome and create an appropriate treatment plan specifically for you.
TEOXANE Procedure Techniques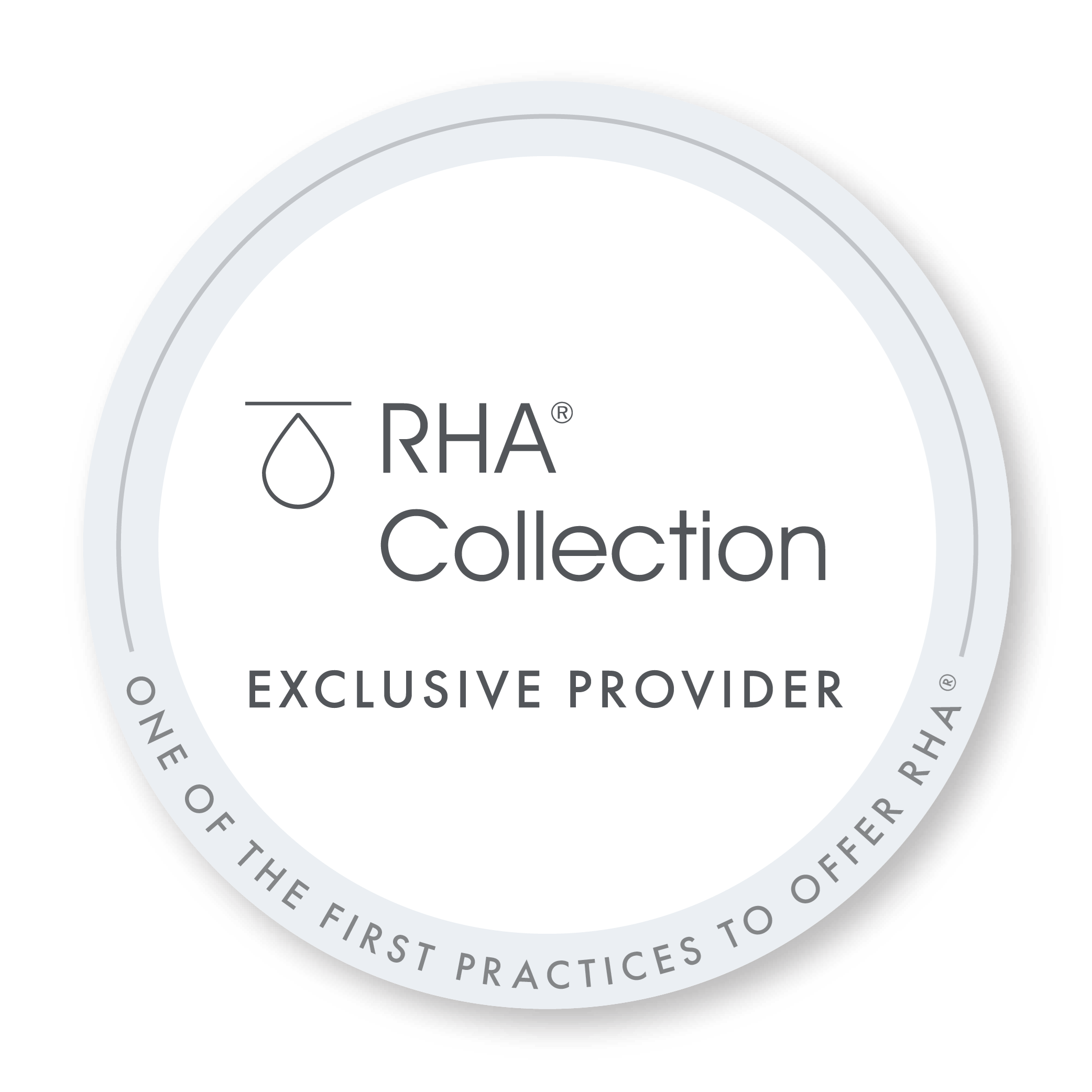 The RHA collection latest innovation in filler technology designed to be most like natural Hyaluronic Acid and lasts up to 15 months.
Adean Kingston, M.D. was hand selected to be one of the first practices in the country to offer this exclusive treatment.
Your face will be cleaned and to minimize discomfort during the treatment, a topical numbing agent will be applied. Additionally, the RHA fillers contain lidocaine (a local anesthetic) which help reduce any pain that you may experience during the procedure. After your treatment, you can resume your normal routine, but you should be careful to not firmly rub your face after your injections to avoid moving the filler into unintended areas.
Although the exact length of time that the filler will last varies between patients, these RHA fillers have a 15 month duration. Additionally, follow-up appointments can be scheduled to maintain your desired results.
Optimal, Youthful Results
The RHA Collection of dermal fillers can provide restored volume and younger-looking results without the downtime of a surgical treatment. Designed to be resilient enough to adapt to your facial movement, it provides a natural looking result at rest and in motion. Dr. Adean Kingston and her team are proud to offer this innovative procedure for our Dallas, TX patients. Learn more by contacting our facility today to schedule a consultation.
Related Post