What is RHA Collection (TEOXANE)?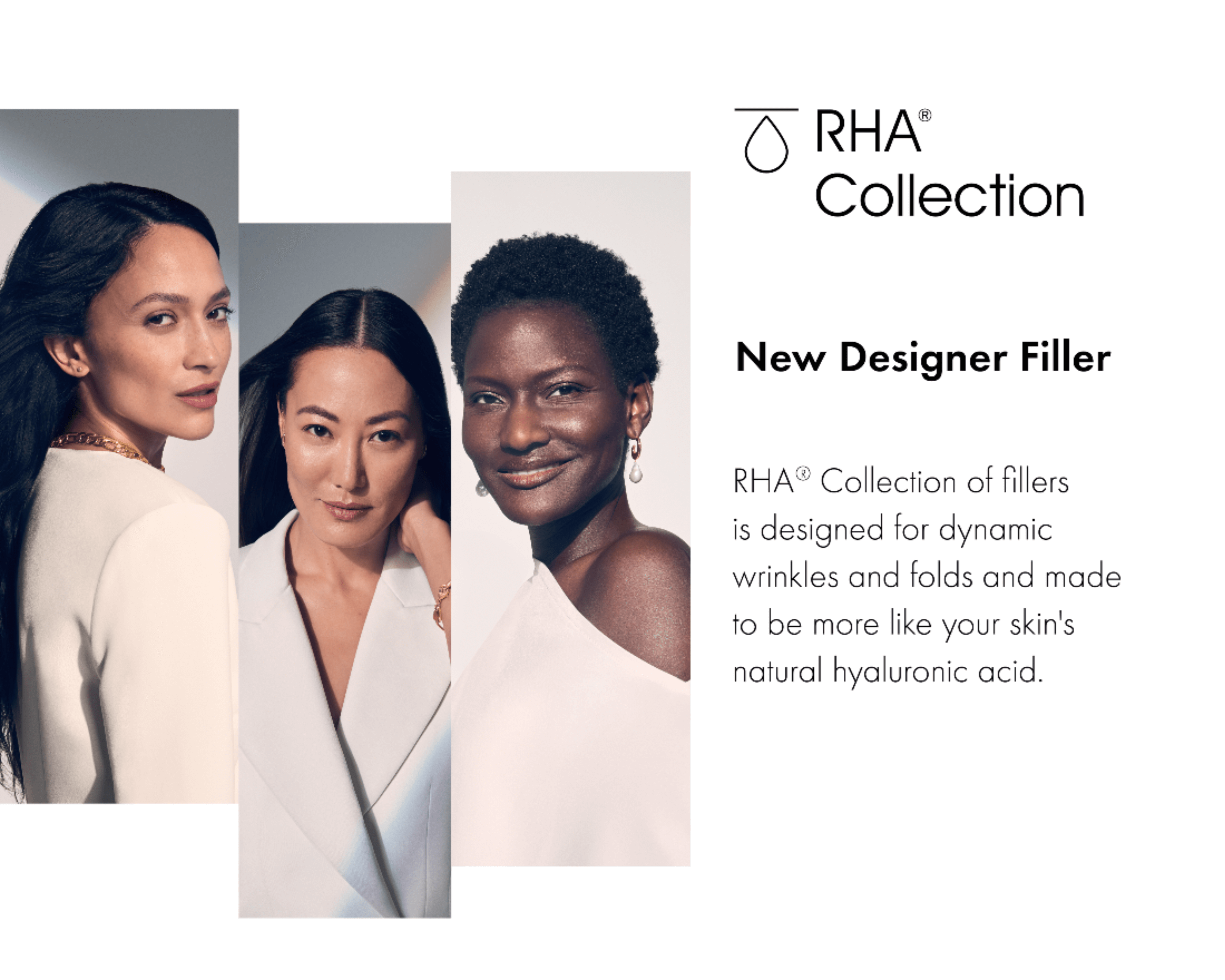 RHA - Resilient Hyaluronic Acid - is the latest technology in dermal fillers. The RHA collection the first and only designer filler FDA approved for dynamic wrinkles and folds. Dynamic wrinkles and folds appear in areas of the face which move repetitively. RHA is designed to be resilient enough to to adapt to your facial movement, which may provide a more natural look at rest and in motion.
Your skin contains Hyaluronic Acid (HA) which provides moisture, volume and structure. The RHA Collection is intentionally designed to be more like the natural HA in your skin. RHA uses a gentle manufacturing process with few chemical modifications, allowing it to mimic the natural HA found in your skin.
The RHA collection developed by TEOXANE Laboratories in Geneva, Switzerland, represents the latest advancement in filler technology. It was expertly developed to be a filler that has a long duration (15 months), but also moves seamlessly with the dynamic areas of the face.
Adean Kingston MD was hand selected as one of the first and only practices in the Dallas area to offer these fillers. The RHA collection of fillers includes three varying hyaluronic acid formulas in order to provide your best possible outcome. At Adean Kingston, M.D., PLLC in Dallas, TX, our skilled team utilizes the various RHA products in order to provide individualized procedure options that fit the unique needs and goals of each patient. To schedule a consultation with Dr. Adean Kingston and her experienced aesthetic team and learn more about your dermal filler options, contact our state-of-the-art facility today!
Reviews
"None"
- G.F. /
ZocDoc /
Nov 28, 2023
"Dr. Kingston is really sharp. Her staff is top notch. I highly recommend her."
- S.W. /
ZocDoc /
Nov 15, 2023
"Quick and easy! Enjoyed my visit."
- M.L. /
ZocDoc /
Nov 08, 2023
"Dr. Kingston, along with her staff, are always professional, courteous and welcoming. They greet you by name and make you feel very comfortable. Doctor and staff thoughtfully answer any questions and the office is very organized from beginning to end. I highly recommend Dr. Kingston's practice. You won't be disappointed."
- D.B. /
ZocDoc /
Nov 07, 2023
"A longtime patient, I highly recommend Dr. Kingston. She is very skilled & trustworthy. "
- K.S. /
ZocDoc /
Nov 06, 2023
Previous
Next
What Are Some of the Benefits of the RHA Collection?
RHA designer fillers offered at our Dallas, TX practice can provide several benefits for patients looking to boost and rejuvenate their appearance, such as:
Replacing lost volume
Effects that look natural and remain up to 15 months
Making the lips more voluminous
Producing a younger aesthetic
Does not alter facial movements
No surgery or scarring
Effects can be practically instant
Shrinking wrinkles, creases, and fine lines
Adding fullness to the jawline and cheeks
am i a candidate for rha collection (TEOXANE)?
Ideal candidates for a dermal filler treatment with RHA may be desiring a number of results, including:
Diminished facial wrinkles
A reduction in the appearance of fine lines
Added volume to areas of the face, including the cheeks and lips
A younger-looking appearance without the need for surgery
Little downtime following treatment
During your thorough consultation at our Dallas, TX facility, Dr. Kingston and her team will be able to thoroughly evaluate your desired outcome and create an appropriate treatment plan specifically for you.
how is rha collection done?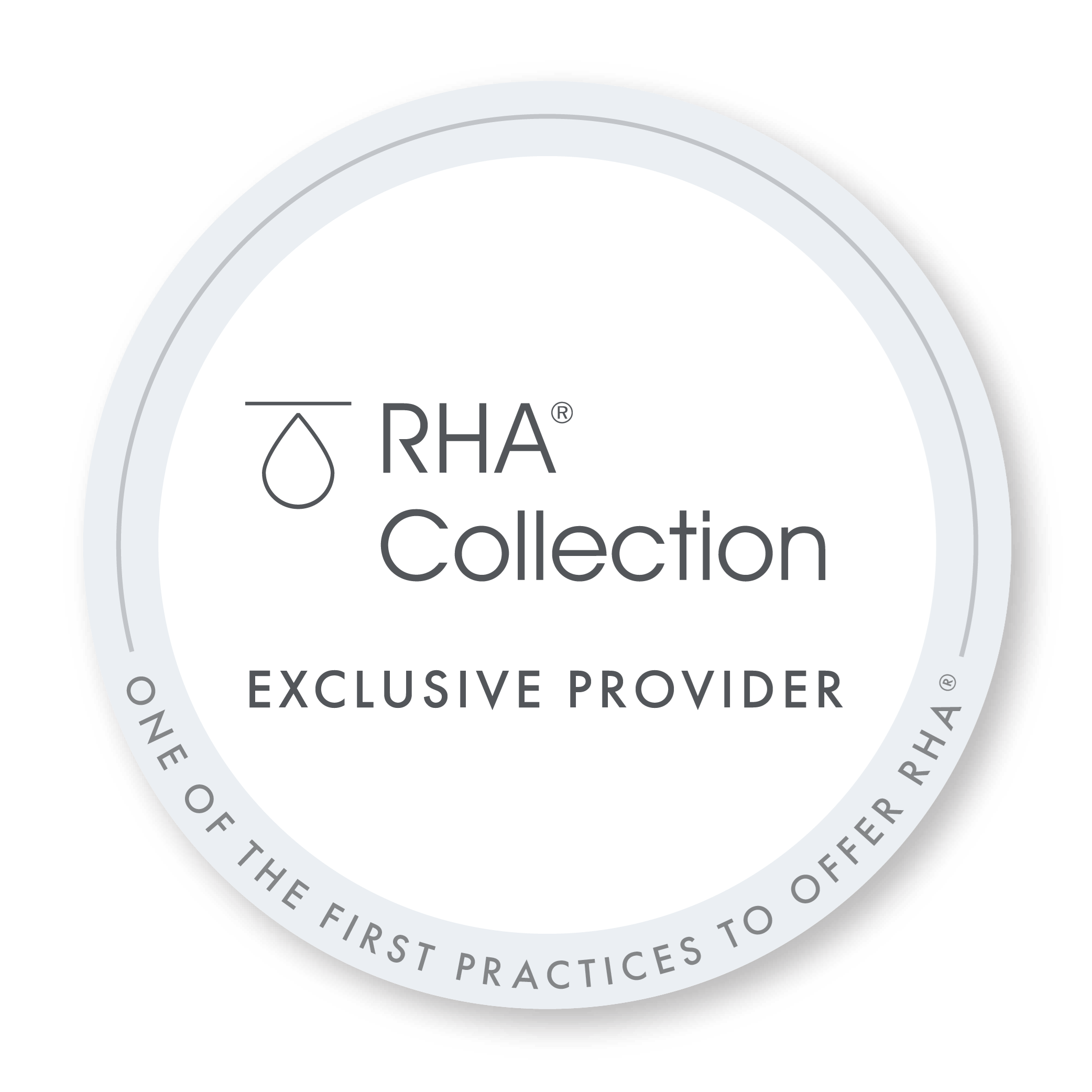 The RHA collection latest innovation in filler technology designed to be most like natural Hyaluronic Acid and lasts up to 15 months.
Adean Kingston, M.D. was hand selected to be one of the first practices in the country to offer this exclusive treatment.
Your face will be cleaned and to minimize discomfort during the treatment, a topical numbing agent will be applied. Additionally, the RHA fillers contain lidocaine (a local anesthetic) which help reduce any pain that you may experience during the procedure. After your treatment, you can resume your normal routine, but you should be careful to not firmly rub your face after your injections to avoid moving the filler into unintended areas.
Although the exact length of time that the filler will last varies between patients, these RHA fillers have a 15 month duration. Additionally, follow-up appointments can be scheduled to maintain your desired results.
How long will treatment take to settle?
The length of time your treatment will take to settle depends on a number of factors, including the amount of injectable used, site of injection, and individual healing factors, to name a few. In general, patients report about 10 – 14 days before their treatment feels fully settled. If you feel that yours is still swollen or unsettled for longer than two weeks following treatment, please contact our Dallas, TX, location to arrange a follow-up.
What can I expect after treatment?
Following treatment, you can expect slight swelling and bruising at the site of injection. Your initial results may appear more exaggerated, but after settling, you can notice natural, enhanced results within less than two weeks. The results of the filler itself should last up to 15 months, with many patients seeking touch-ups after that point to maintain results longer.
Why RHA Collection instead of other fillers?
RHA Collection fillers utilize resilient hyaluronic acid (RHA), allowing this filler to hydrate the skin. Other popular filler options also include hyaluronic acid, but the RHA in this option is ideal for defending against signs of aging. It also works well in moisturizing and tightening the surface of the skin, making RHA filler a favorite option for those looking to reduce visible signs of aging.
get Optimal, Youthful Results
The RHA Collection of dermal fillers can provide restored volume and younger-looking results without the downtime of a surgical treatment. Designed to be resilient enough to adapt to your facial movement, it provides a natural looking result at rest and in motion. Dr. Adean Kingston and her team are proud to offer this innovative procedure for our Dallas, TX patients. Learn more by contacting our facility today to schedule a consultation.
Related Post
Related Offers